Former Trustee, Vibrant Missions Volunteer Betty Jo Craft Dies
Posted on: November 26, 2021
By LaVerne Howell, laverne.howell@ngu.edu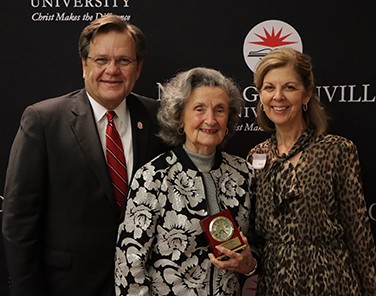 Tigerville, SC (November 26, 2021) Dr. Betty Jo Canon Craft, a former NGU trustee known for a vibrant faith and a lifetime of missions engagement, died on Thanksgiving Day, November 25, at the age of 99 following a battle with Covid-19.
Born April 8, 1922, the Maryville, Missouri, native lived in Columbia, South Carolina, for nearly 50 years. She was a member of the First Baptist Church of Columbia and was actively engaged with numerous ministry organizations around the country.
"By her actions in every setting, Betty Jo will always be known for her winsome enthusiasm as a Christ-follower who challenged others to live out their faith," said NGU President Dr. Gene C. Fant, Jr.
Dr. Craft served multiple five-year terms on the University's Board of Trustees from 1995-1999 and 2001-2005. She filled an unexpired board term from 2015-2017.
In 2019, NGU created the Betty Jo Craft Board Service Award, annually recognizing a trustee who demonstrates "exemplary, dedicated action which furthers the effectiveness of NGU's Christ-centered mission and inspires the engagement of others in the life of the University." That same year, North Greenville honored Dr. Craft with presentation of the Leo Vernon Powell Legacy Award, which recognizes individuals who have made a significant impact on NGU through their leadership, inspiration, service, and financial support to the University and its mission.
NGU's Craft-Hemphill Center for Apologetics and Christian Worldview, completed in August 2011, is named in recognition of her support for the University. The building houses North Greenville's School of Christian Studies and the Center for Global Leadership, which coordinates student ministry teams which serve around the world.
Dr. Craft and her late husband, Ira, actively supported Christian missions and church planting work in the northeastern United States. The Crafts were married for 57 years before he died in January 1999. Shortly after their marriage, Ira served in World War II. He was among the first group of U.S. soldiers to escape from a German POW camp. The Crafts lived in Massachusetts for three decades, while Ira worked with Brown Shoe Company. The couple were charter members of the First Baptist Church of Sudbury, Mass.
In 1968, Ira invited Atlanta-based businessman Cecil B. Day, to see Southern Baptist work in New England. Day, founder of Days Inn hotels, was inspired to support that work and formed the Cecil B. Day Foundation. He asked Ira to move from a 30-year career with Brown Shoe Company to lead the foundation. After a brief tenure in Atlanta, the Crafts moved to Ira's native state of South Carolina, choosing to live in Columbia.
When the Day Foundation began supporting evangelical work in New England, there were 21 Southern Baptist churches in the six-state region. Over the next 31 years, the Crafts were able to help strengthen more than 400 churches associated with Southern Baptists and other evangelical groups.
"Ira and Betty Jo came to the church my parents were planting near Buffalo, N.Y., when I was a small child," said President Fant. "When I met with NGU trustees before becoming president in 2017, she remembered me immediately, drawing across five decades to recall the shared work of our families in pioneering missions service."
Dr. Craft delivered the invocation at Dr. Fant's Presidential Inauguration on April 13, 2018.
"To be around her was to see a living example of God's design for Christ-centered living. She would, in a two-minute span, naturally speak with strangers about spiritual matters and remind them of Christ's love," Dr. Fant said. "Her sparking enthusiasm for talking about God's love for all people never waned. It was the overflow of a joyful heart. Lisa and I knew she was one of our biggest cheerleaders and prayer warriors."
In addition to their engagement with Baptist work in New England, the Crafts were involved in countless lay renewal conferences and events around the world, encouraging Christians to actively live out their faith. They led lay evangelism schools and retreats for pastors and wives, working in 30 countries and serving on five continents.
Dallas Baptist University recognized the Crafts for their exemplary servant leadership with the presentation of honorary doctorates to both Ira and Betty Jo.
Dr. Craft, who accepted Jesus Christ as her Lord and Savior at the age of 15, continued to be active in local church ministry throughout her life. At the First Baptist Church of Columbia, she taught Sunday school, was involved with the Woman's Missionary Union, sang in the senior adult choir, and supported many mission opportunities.
During the Covid pandemic, she often told friends she was concerned about "wasting time" because she could not leave her home to talk with people about Christ, and she would celebrate the opportunity to visit with utility personnel who would be working in front of her house.
Using her unique pronunciation "CHRIST-ee-an," Craft would challenge professing Christians to actively live by biblical standards and consistently share their faith with others.
"I believe that missions is the ministry that God has given each of his children," she said before a missions celebration in 1998. "Missions is a call from God and an everyday thing for the Christian. It's a lifestyle."
"God will not call anyone he does not also equip, and he will always be right there for you," she said. "You're never alone. I've experienced that in my own life."
In recognition of Dr. Craft's life and legacy, President Fant has directed that all NGU flags be flown at half-staff through sundown Thursday, December 2, 2021. A commemorative wreath has been placed in the newly refurbished Adams Lobby of the Craft-Hemphill Center on NGU's Tigerville campus.