NGU Celebrates Class of 2022 at Fall Commencement
Posted on: December 10, 2022
By Billy Cannada, billy.cannada@ngu.edu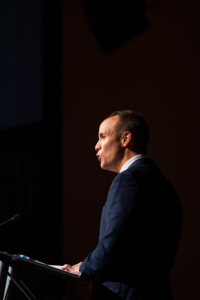 Tigerville, SC (December 9, 2022) Encouraged to remember the sunny days and follow biblical forecast guidance while weathering life's storms, 162 North Greenville University graduates were awarded degrees during the university's fall commencement on Dec. 9 in Turner Chapel.
Chris Justus, Chief Meteorologist at Greenville's WYFF News 4, drew on weather analogies while delivering the keynote address at the event, which concluded the university's fall semester.
During the evening ceremony, NGU President Dr. Gene C. Fant, Jr. conferred 88 bachelor's degrees, and 74 graduate degrees.
Following a welcome from President Fant and a reading from Psalm 118, an invocation was given by NGU Board Chair Mandie Boyd ('05).
NGU offers more than 125 areas of study across certificate, bachelor's, master's, doctoral, and early college opportunities. Online. In-person. At our main campus in Tigerville, SC, the Tim Brashier Campus in Greer, SC, or several educational centers around the U.S. One university, many locations. Every day. Epic. Learn more.